St. Patrick's Day cupcakes with M&Ms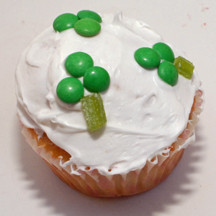 Make quick clovers for St. Patrick's Day and your cupcakes will have the luck of the Irish. Enjoy them with a shamrock shake.
What You Need: 1 cupcake (baked and cooled); white frosting; green mini M&Ms (or regular for larger shamrocks); strands of green sour candy.
How to Make It: Frost cupcake. Arrange M&Ms in groups of 3. Snip or cut off short lengths of sour candy to make stems and add to cupcake.
Tags: clover, cupcakes, green M&Ms, shamrock, St. Patrick's Day