Christmas wreath cupcakes with "berries"
Simply place a few red hot candies on this star wreath and you have easy Christmas cupcakes!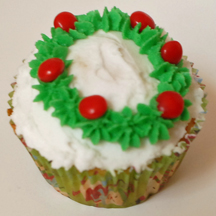 What You Need: 1 cupcake (baked and cooled); white frosting; green frosting; pastry bag and metal star tip or prepared tube and plastic tip; red hot (cinnamon imperial) candies.
How to Make It: Frost cupcake white. Tint some icing green using liquid or paste food coloring and fill pasty bag half-full and assemble coupler and #16 or #21 star tip. (You could instead buy green frosting in a tube; and the star tip is usually one in a set of four that screw right on to the tube.) Make a circle of stars, being careful to stop squeezing before you pull away or your stars will have points on their tops. Add red hot candies for berries.