Reindeer cupcakes with pretzel antlers
This Rudolph the Red-nosed Reindeer gets his shiny nose from a gumdrop and his antlers from mini pretzels.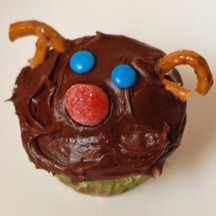 What You Need: 1 cupcake (baked and cooled); chocolate frosting; 2 blue mini M&Ms; red gumdrop; 2 mini pretzels.
How to Make It: Frost cupcake. Add gumdrop nose and M&M eyes. Break mini pretzels to look like antlers and poke into cupcake. That's it!