Frog cupcakes with marshmallow eyes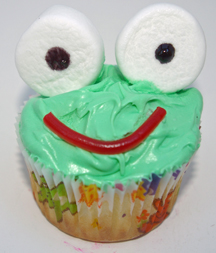 Get hopping for Leap Day or any day with these fun frog cupcakes that use marshmallows for buggy eyes.
What You Need: 1 cupcake; icing tinted green; 1 marshmallow; black gel or writing icing; red licorice; scissors.
How to Make It: Frost cupcake. Use kitchen shears or floured scissors to cut marshmallow in half widthwide Use black to make 2 eyeball dots on the not-sticky end of the marshmallow halves. Set eyeballs on cupcake. Add red licorice mouth.
Tags: cupcakes, frog cupcakes, frogs, Leap Year