Fondant clover cupcakes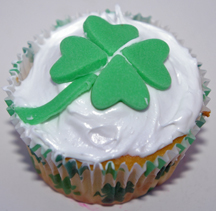 Been wanting to try fondant on your cupcakes? These simple St. Patrick's Day four-leaf clovers are a great place to start. You can place the shamrock on top of a buttercream-frosted cupcake like we did, or cover the entire cupcake with fondant. To learn more, visit our using fondant with cupcakes page.
What You Need: 1 cupcake; white icing; green fondant (or tint white fondant green using gel food coloring); small heart-shaped cutter; rolling pin; mat or other clean surface; spatula or knife.
How to Make It: Frost cupcake. Roll out fondant about 1/4 inch thick. Cut four hearts with cutter. (Dip cutter in powdered sugar first if it's sticking.) Cut small strip of fondant for stem using spatula or knife. Arrange on cupcake.
Tags: clover, cupcakes, fondant, shamrock, St. Patrick's Day