Rainbow and pot of gold cupcakes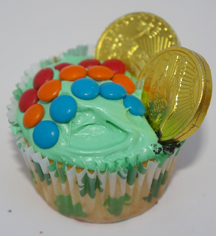 These easy St. Patrick's Day cupcakes don't require any special decorating tips or techniques, just mini M&Ms and some foil-wrapped chocolate coins.
What You Need: 1 cupcake; white, green or blue icing; mini M&Ms in various rainbow colors; chocolate coins.
How to Make It: Frost cupcake. Leaving a little space at the right edge for coins, arrange mini M&Ms in an arched rainbow. Add chocolate coins.
Tags: cupcakes, pot of gold, rainbow cupcakes, St. Patrick's Day