Clover shaped cupcakes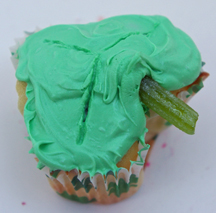 These clover-shaped cupcakes will be the hit of the St. Patrick's Day party, as everyone asks, "How'd you do that?" Well, it's easy.
What You Need: Cupcake batter; paper liners (with shamrocks if you'd like!); marbles or balled-up aluminum foil; green icing; toothpick.
How to Make It: Fill muffin tin with paper liners. Fill each liner about half-full with batter. If you fill them too full, the batter will spill over and your cupcakes won't look like shamrocks. (You may have to experiment a bit.) Now, slip 3 marbles, equally spaced, between the paper liner and the inside bottom of the muffin tin. Bake as usual, but check frequently. Also, don't burn yourself, as the marbles get pretty hot! Once the cupcakes cool, frost them with green icing and use a toothpick to draw leaf "veins." Or, use green writing icing. Add a green candy stem (we used Sour Punch green apple straws).
Tags: clover, cupcakes, fondant, shamrock, St. Patrick's Day