Monday, February 1st, 2016
It's been awhile since I've added new cupcakes to this site. As a test, I'm reposting a favorite Valentine's Day cupcake recipe. I hope you like this cute butterfly made with a yogurt-covered pretzel!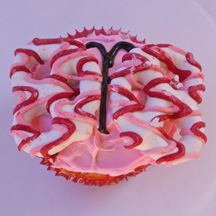 What You Need: 1 cupcake; pink frosting (use strawberry, or tint your own); 2 chocolate-covered pretzels in white, red or pink; black writing icing.
How to Make It: Frost cupcake pink. Position pretzels like butterfly wings. Use black icing to "draw" antennae between the wings.