Monday, June 21st, 2010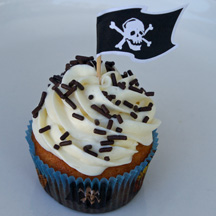 These pirate flag cupcakes use Wilton's cupcake liners and flags, and are a quick way to complete the perfect pirate party. Little (and big) swashbucklers will love them. Also great for a Pirates of the Caribbean party or grownups' event.
What You Need: 1 cupcake; white frosting; Wilton cupcake liner and flag (sold in a set); chocolate sprinkles; pastry bag, 1M metal tip.
How to Make It: Use tip to make 1M swirl (squeeze steadily in concentric circles, starting at the rim of the cupcake and working inward and upward). Sprinkle with chocolate jimmies. Plant pirate flag on top.